Hey there, my friend!
Welcome to my resource page where I will share with you all the essential tools for affiliate marketing that I personally use to run my online businesses.
And just so that you are aware: many other successful affiliate marketers are using some of these very same tools and resources to help propel their online business growth.
If you are running your own online business as an affiliate marketer, or just looking to get started, then you are most likely going to need these tools, training, and resources to help you get started on the right foot.
But, do keep this in mind:
Even though all these resources are great and totally recommended.  None of them will be of good use to you if you aren't using them.
So be sure that if you decide to utilize any of them for yourself, learn as much about them as you can and take action when you learn.
Ok, so without any further ado, let's get to it…
Full Disclosure: My friend, just so you are aware and to be totally transparent with you, some of the links in this post are affiliate links and if you go through them to make a purchase I will earn a commission. Keep in mind that I link these companies and their products because of their quality and not because of the commission I receive from your purchases. The decision is yours, and whether or not you decide to buy something is completely up to you. If you're not comfortable with purchasing through my affiliate link, simply open a new tab and go to the URL directly without my affiliate ID. I hope you enjoy finding out these essential tools, training and resources that I use to run my online business! Thanks for your support 🙂

-Jason
---
Website Builder and Hosting:
SiteRubix by Wealthy Affiliate
Having your own website and somewhere to host it are two of the most important elements of your online business, in other words, you NEED them.
SiteRubix is both a website builder and hosting platform that helps with this.
It's where I build the majority of my websites and where I also have them hosted.
Sites are easy to build (takes just over a minute) using the widely known WordPress content management system.
With SiteRubix, I like the fact that my sites are secure, fast, and protected from spam or any form of online attacks.
And the good thing is that you can choose a SiteRubix sub-domain to build 1 free website below.
Just enter a name for your website to get started…
PRICES FOR YOUR OWN DOMAIN: Hosting 1 domain name costs between $13.99-$15.99, depending on if it's a .com, .org, or .net.
---
Email Autoresponder:
AWeber
Email marketing is one of the most important and vital skills that you MUST master when it comes to running any sort of online business.
You need a have a way to collect your prospect's email address so that you can follow up with them, help them out, recommend great products or services which will provide value to them, and eventually make sales.
There are TONS of email autoresponders out there on the market, but here on my website, I use and recommend one of the very best and most trusted in the industry; AWeber…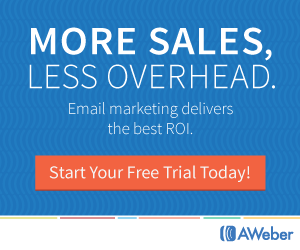 AWeber has been around since 1998 and was founded by CEO Tom Kulzer.
It's powerful, easy to use, and budget-friendly. With it, you can grow your email audience, automate your marketing, and earn a lot of revenue.
I also love their 24/7, US-based customer support. I can give them a quick call and get help right away from real-life email experts.
And the best thing is that you can try AWeber completely free for 30 days using this link.
Before AWeber, I was using another trusted autoresponder called GetResponse, but when I compare the two, AWeber was the clear winner for me, especially with the easy-to-use interface.
So, now I'm in the process of moving all my contacts over from GetResponse so that I can manage their emails from one source.
I am truly happy and satisfied with AWeber's service.
---
Affiliate Marketing Training:
Wealthy Affiliate + Legendary Marketer
I love affiliate marketing a lot because out of all the other online business models with which I have been involved, it's by far the easiest to get set up in my opinion.
It doesn't require you to have much experience at all. And you can even find free training on youtube or on authority affiliates marketing blogs such as Smart Passive Income or Neil Patel's Blog.
But out of all the affiliate marketing training I have seen and been involved with over the years, I have to give the edge to Wealthy Affiliate and now recently Legendary Marketer.
Let me explain what each training is all about below so you'll have a much better understanding of how they will work for your business…
More about Wealthy Affiliate
With Wealthy Affiliate's training, they teach you how to set up a website from scratch, write content on the website so that you can drive targeted traffic, using the free SEO method.
And then they teach you how to monetize that same traffic by partnering with companies such as Amazon, ShareASale, Clickbank, JVZoo, etc.
They even have their own affiliate program where you can promote them and earn commissions.
They have a very strong and huge community with over 1 million members and have been online since 2015.
Not many companies last this long in this space, and I am proud to be a part of the community up to this day and highly recommend their service – especially to people who are just getting started out with affiliate marketing.
They provide an all-important free version of the Jaaxy keyword research tool (which I'll go over below), website hosting service, domain name registrar, and all the necessary training that you'll need to build a business in absolutely any niche of your choice.
And, the good thing about Wealthy Affiliate is that it's totally free to get started – this is a value that you won't find out there from any other company.
Getting started with Wealthy Affiliate is easy. All you have to do is visit their website, enter your best email, and click on the sign-up button to create your free account.
But, what I have realized over the years is that a lot of people take their great service for granted.
This could be because when most people see that something is free, they don't pay much attention to it.
Maybe they are thinking that since it's free then it's not worth the time nor effort.
Listen to this carefully…
Wealthy affiliate's affiliate training is one of the best world-class affiliate education and has a lot of value even at the free starter level.
I truly think you will love what they have to offer so visit them today and you'll be the judge for yourself.
More about Legendary Marketer
Now, Legendary Marketer's affiliate marketing training focuses mostly on using paid traffic sources such as FB Ads to drive traffic to your opt-in page for capturing email addresses, then funnel those people to your thank you/bridge page where you introduce them to a product or service which you are recommending.
What's good about Legendary Marketer is that when you choose to join them as an affiliate, you have the potential to earn high ticket commissions. That is if you do choose to promote their affiliate training.
The founder of Legendary Marketer is Dave Sharpe and he has a lot of experience and knowledge when it comes to creating online businesses.
To date, he has earned well over $200 million dollars for himself and his partners.
However, I have to admit that he has a sort of negative past where he was one of the founders of the now-bankrupt Empower Network. You can get more details here if you want to learn about how that went down.
Dave has now turned a brand new page and is helping out other people to build up an ethical online business with integrity using the high ticket sales formula.
The 15 days online business builder challenge which he has prepared has some really valuable training that I think you will find very eye-opening, (at least I did) so go check it out and see if it's something that suits you.
---
Landing Page Software:
ClickFunnels by Russell Brunson
ClickFunnels is a very cool landing page software that I recently started using.
It was founded by Russell Brunson who is a real marketing genius.
Here is a video where he tells you what ClickFunnels is and how it works:
They offer a 14 day free trial which allows you to test it out and see if it's right for you and your business or not.
After the trial ends and you decide to stay, it will cost you $97 out of pocket each month. You can also cancel at any time you want.
There are also other products inside such as their built-in email autoresponder called Actionetics which costs $297 per month.
You can create funnels to collect emails, sell your products, host a webinar, and several other features.
Click on the banner below to claim your 14-day free trial and learn some more about Russell Brunson and his innovative company…
---
Keyword Research Tool:
Jaaxy
Jaaxy is the main keyword research tool that I use to find low competition keywords which I can then use to write a review or article which will most likely rank high in Google, Yahoo, and Bing.
It gives me data such as the average search a keyword gets searched for in the search engines for the month, as well as the number of other sites already ranking for that same keyword ie: the competition.
Without this information, it would be as if I'm shooting in the dark, or even winking at a girl in the darkroom.
(The point is that no one would see the content)
Either way, without using a keyword research tool, you don't really have a serious online business.
It's definitely essential to my business, and I use it on a daily basis to find even more keywords to rank for.
It also has one of my favorite features (SiteRank) which allows me to keep a track of each keyword I am already ranking for.
For example, if I were to check the SiteRank feature and see that my Google rank for a keyword is somewhat declining, I'll know that I'll need to make changes to the article so that it can rise back up in the rankings.
Feel free to give it a test run below for yourself to find some keyword ideas for your chosen niche…
WARNING: Jaaxy is a very addictive keyword research tool! Sometimes I find myself analyzing way too much instead of creating content.
You will want to be careful and don't let analysis paralysis take control over you.
Just a fair warning here. Can't say I didn't mention this to you.
Get your first 30 searches for free with Jaaxy here.
---
Video Hosting:
Wistia
I have been using the Wistia Video hosting platform to host my videos which I then upload to my landing pages.
I love that I am able to see stats on each video, such as the number of people who watch it, how long they watch it for, what point they stopped watching it, etc.
Another great feature that I really like is that after the video finishes, the viewer will not see related videos such as what you'll normally see when you have finished watching a youtube video.
Even the owners at Wealthy Affiliate have recently integrated it as their video hosting software of choice.
You can read this blog where Carson (one of the co-owners at Wealthy Affiliate) and his team have implemented it to improve the quality of the training videos inside the community.
If you are into creating your own videos, then you'll absolutely love the Wistia video hosting platform.
Create a free account by going to this link here.
---
Affiliate Networks
In order to monetize your content and earn commissions, you will definitely want to partner with legitimate companies that are known to pay out their affiliates on time.
Below are the ones that I use and they are what I recommend for you as well.
NB: Affiliate networks are always free to join. Any affiliate networks that require you to pay money to join are most likely just trying to scam you, so do keep this in mind as you build out your affiliate business.
Amazon Associates
The Amazon associates affiliate network is one of the first online companies which was formed to pay out affiliate marketers commissions whenever time they refer people who end up buying their products.
Currently, it is the most widely known and is a great place for newbies to get started.
NB: If you decide to signup, you want to ensure that you can bring in consistent sales because they will shut down your account.
To avoid this problem, I would suggest that you first concentrate on having content on your website which is already generating traffic.
This way, you are more likely to get accepted and make sales along the way.
ShareASale

ShareASale is another established affiliate network in the affiliate marketing space. They have a wide variety of merchants that you can partner with to promote their products.
But you have to first apply to each individual company in order to get approved.
Sometimes the process can be instant, but in some cases, you'll have to wait for 3-7 business days for them to approve you.
But, one thing is for sure: you won't have to worry about second-guessing if some of these companies will be safe to work with or not, because they have all been vetted and are top quality companies to partner with.
ClickBank
Clickbank is very popular for affiliate marketers, especially when it comes to promoting digital products such as ebooks, video training, etc.
What is good about them is that most of the products pay out high commissions (up to 75%) to affiliates.
But on the other hand, some of the products tend to be of low quality.
And since Clickbank has a 90-day refund policy in place, a lot of people who buy those products will choose to get a refund if the product doesn't solve whatever problem they may have.
That's not so good for affiliates because we are the ones who will have to pay back that money.
This happened to me once when I got a $400+ commission…then some weeks after, I got an email from Clickbank saying that I needed to pay back the money because the customer refunded 🙁
To be safe, I would suggest that before you choose to promote a product, do some research to make sure that it's of the highest possible quality.
CJ Affiliate (Commission Junction)
First, watch this video below from CJ Affiliate where they explain the power of affiliate marketing in their own unique way…
Commission Junction is pretty good. Some of the biggest and most established brands partner with them to reach more affiliate marketers like us.
Some of these brands include Office Depot, Priceline, Lowe's, and Barnes and Noble.
You know that you are in good hands when you choose to partner with such companies and check this out: the refund rates are low when compared to Clickbanks' as an example.
---
Apart from these 4 affiliate networks which I have listed, there are tons of others out there to choose from.
You can always just do a quick Google search to find a lot more…
To do this, just enter your keyword + affiliate program into the Google search bar to get relevant results.
Eg: if you are looking to promote car rentals, you would type in "car rentals + affiliate programs".
Another easy way to find even more great affiliate programs is by going to your Wealthy Affiliate dashboard and clicking on the "Affiliate Programs" tab on the left…
This link opens up a new page in a new window where you get to search for any products or services that you wish to promote to your audience.
It's very convenient and it also gives you peace of mind, because all the companies that you will find there are already vetted as legitimate.
This is another great reason why I recommend that you get a free account at Wealthy Affiliate. They have so much value inside to offer.
---
Boosting Traffic:
Pinterest Traffic Avalanche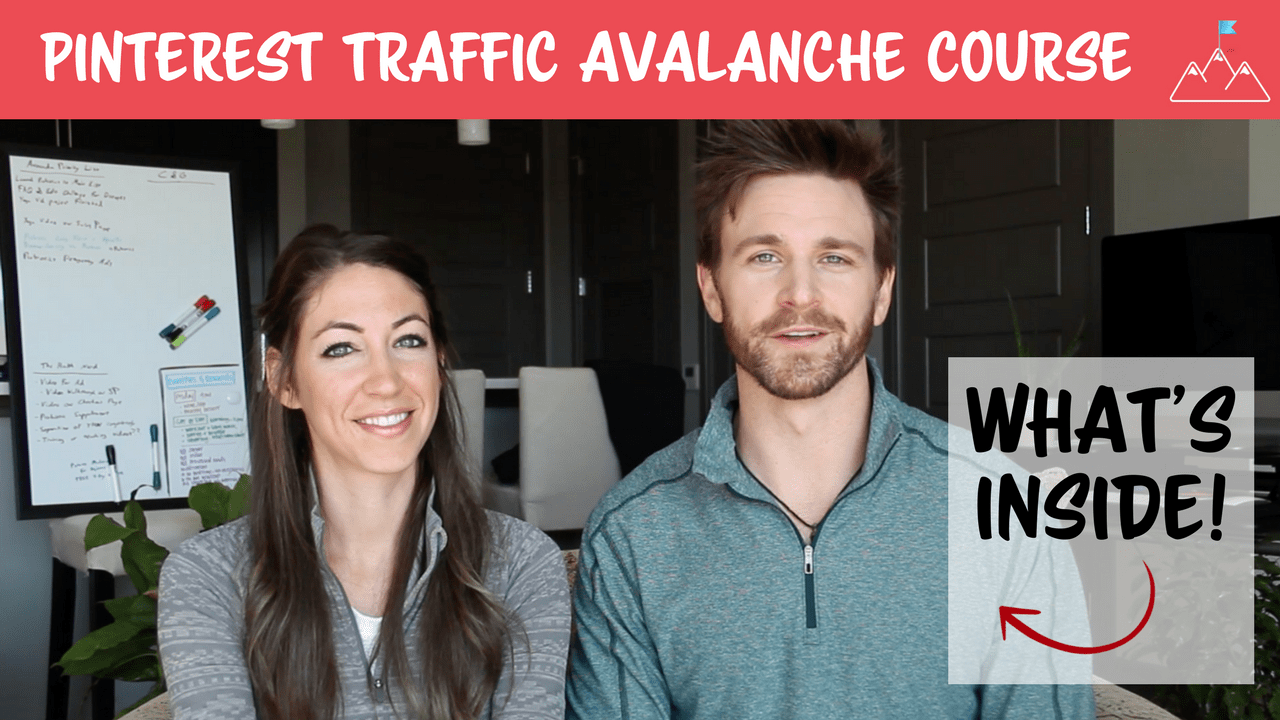 Getting free traffic from Google, Yahoo, and Bing is great, however, it's a good idea to add other free traffic methods just in case any of those sources die out.
That's where Pinterest comes in.
After doing some online research, I found out that other people were using Pinterest as a funnel to get more people on to their websites in order to get leads and make sales.
So, the next best thing that I did was to research online to see what was a good Pinterest course that others have taken and actually gotten results.
That's when I found the Pinterest Traffic Avalanche Course by Alex Nurney and Lauren McManus.
I am glad that I was able to find it because it has allowed me to increase traffic to my home improvement website and as a result, I have made some extra sales as well.
Alex and Lauren update the course on a regular basis and they have a helpful Facebook group that is actually quite active too.
You will definitely want to check them out if you want to learn how to use Pinterest to get traffic to your affiliate website and increase sales.
---
Pinterest Scheduler, Analytics & Marketing Tool:
Tailwind APP
Since I am on the subject of Pinterest, I would like to share with you the Tailwind App scheduler and analytics tool that I use to automate the pinning process.
You already know how valuable our time is, so if there is any tool out there that helps to save time, then this is definitely one of them.
Instead of me pinning manually each day, I simply spend a couple hours out of a day and set hundreds of my pins to automatically pin to Pinterest each and every day for several months.
This is a total time saver and productivity booster, and the good thing is that they offer a free version that allows you to create 100 free pins to schedule out to either Pinterest or Instagram.
Use this link to try out the Tailwind App for free. I think that you'll absolutely love it 🙂
---
Graphic-design Tool –
Canva
I use the Canva graphic design tool to create just about every graphic that I use for my affiliate marketing business. It now seems like a tool that I cannot live without at the moment.
They make it so easy for me to create all types of banner graphics (like the one you see at the beginning of this Essential Tools For Affiliate Marketing article).
I use it to create all the Pins that I upload and schedule in the Tailwind App.
I use it to design my Twitter and Facebook page images. I can even select custom image sizes and upload any of my personal images.
And it's not hard to use either. In no time, you should be able to get a good understanding of how it works. Watch the video below to see how…
And again, this is a free tool used for creating stunning graphics.
There is also an optional paid version that allows you to get more images to use and so on, however, if you are just starting out, the free version will be just enough.
Get started with your free account using this link.
---
Grammar Checking/Spell Checking Tool:
Grammarly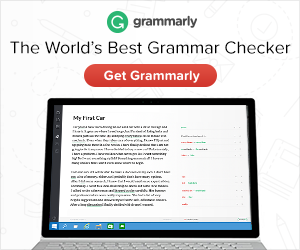 I am not the best writer in the world (and that should be obvious ?), so that is why I made it a point of my duty to install the free Grammarly App on my computer.
I use it to check for any grammar or spelling errors before I publish any pages or posts on my websites.
The great thing about it is that it works on all computer devices. I also love the fact that it picks up errors on any word document. It could be in Notepad, Skype, Facebook, wherever.
It doesn't matter where it is. As long as it's installed on your computer, it has the ability to pick up on any errors and correct it.
They have branded themselves as "The World's Best Grammar Checker" and I totally believe them.
Install Grammarly for free here > https://smarthumanblogger.com/grammarly
---
WordPress Plugins
WordPress Plugins are important because they help to improve the functionality and performance of my website.
These are some of the most useful WordPress Plugins I use…
Pretty Links Plugin
Let's face it: affiliate links tend to be very ugly-looking at times…
Take a look at my ClickFunnels affiliate link as an example: https://clickfunnels.com/?cf_affiliate_id=1518273&affiliate_id=1518273
Now, who in their right mind would feel comfortable clicking on a link like that? I mean, seriously, it looks a bit suspicious, doesn't it?
Well, that is where the pretty links plugin comes in. It allows me to convert ugly-looking links into professional, clean-looking pretty ones that people are more likely to click on.
Take a look at how it looks when I covert that same ugly link with the pretty links plugin: https://smarthumanblogger.com/clickfunnels
Now, doesn't that look much more professional and appealing to click on?
Download the Pretty Link Plugin >>
Q2W3 Fixed Widget Plugin
Don't mind the complicated-sounding name of this plugin. What it does is what's most important to note.
It allows you to "fix" a banner, image, text, video, or anything you want to the sidebar of your website whenever someone is scrolling down while reading an article.
This can help to draw attention and can convert visitors into subscribers and buyers.
You can learn more about the Q2W3 plugin and download it for free here.
SumoMe Plugin
If you happen to see any type of popups on my website then most likely, it's the Sumome Plugin in action.
It's a great tool that allows me to get my call to action in front of my website visitors, (you) so that I can either collect emails or have them take some other action such as buying a great product or service through my affiliate link.
Sumome also comes fully equipped with the social share buttons you see around my sites.
These buttons allow you to share your articles on social sites such as Facebook, Twitter, and Pinterest.
It's a tool that's quite easy to use and the best thing about it is that you can install it for free on your website. Use this link to get it set up.
I know that you are going to love what Sumome can do for you and your affiliate marketing business.
So go ahead and install it on your website for free.
MUST-READ BOOKS FOR SUCCESS
Now, before I conclude this page, I want to share with you these essential books for success which I have used to develop my overall mindset which has helped me to earn more money as an online marketer.
I believe these books should be included in your library and these are the books which I recommend to even my closest relatives and friends.
I am listing them here from the one I think you should read first to the last.
Here they are…
Rich Dad, Poor Dad by Robert Kiyosaki
Reading this book for the first time opened up my mind to the reality of how rich people think and act differently from poor people.
One of the best lessons that I learned from this book is that the rich don't work for money, but rather have the money do the work for them by investing it.
Poor people, on the other hand, work hard and long for money and spend it on all sorts of unnecessary things and that is why they are kept poor.
Trust me, you will get a mind shift after reading this incredible book.
It's one of the all-time great finance books and you MUST get and read it if you have not yet done so.
The Richest Man In Babylon by George S Clayson
Now, this book is simply a treasure for all ages.
And the good thing is that it's very easy to digest because it's written in story format for anyone reading it to get the full understanding quickly.
The most important lesson I learned by reading the richest man in Babylon is that you should ALWAYS pay yourself first (10% or more) whenever time you get paid.
This money that you pay yourself should then be used for investing.
And that is how you'll be able to become a much richer person in life.
As George Clayson puts it, you have to make the money become slaves for you.
Let the money go out there and do the work for you and even when the money earns money, do not go and spend it right away, but instead, reinvest that money to create your fortune.
These are the principles that I personally apply in my life and I will never stop.
I'm very happy that I found it for myself.
Now, it's your time to discover it for yourself, so get it wherever you buy books and keep it with you for the rest of your life.
Think and Grow Rich by Napoleon Hill
From all the books which I have read so far, Think and Grow Rich has been the most influential and impactful to my positive mentality.
It's not a book that you just read one time and put away on the shelf.
No, it's one of those books that you study for a lifetime so you have to keep reading it over and over and over again.
Many of the successful people you may know and admire such as Tony Robbins, Oprah Winfrey, Bill Gates, Mark Zuckerberg, Henry Ford, and many others have used the principles contained in Think and Grow Rich to achieve massive success in life.
It contains the 13 principles which lead to riches and I can tell you that these principles are essential to most of the success that I have personally seen so far.
Your duty in life is to improve yourself and others around you every day and that is why this book is so important.
For me, chapter 13 about the Subconscious mind was a massive eye-opener.
It teaches how you can plant in your mind any plan, purpose, or thought that you desire to translate into physical or monetary equivalent.
That means whatever thought you put into your mind and concentrate on it with a burning desire to succeed, will manifest into reality.
It's really deep stuff and you have to study it for yourself to get the full understanding.
It's worth much more than the cost you pay for it.
That's how important and great this book is. Get it to change your life forever.
Conclusion
Now, these are the most Essential Tools For Affiliate Marketing that I am currently using, and there are also some others that I use, but they are not so vital.
I think that these are the ones to get you started out on the right foot with affiliate marketing.
Also, you may have noticed that I didn't mention the theme because, in my opinion, this is not one of the most essential tools.
My simple advice is that you choose a responsive theme – specifically one that is mobile-friendly and one that has easy to read font.
Personally, I am using the free theme Sydney by a company called aThemes, and it is working out just fine.
I may change it to a premium one such as Thrive in the future because it's one that I am currently using on another one of my websites and am more familiar with their premium service.
Ok, that is it for now, thank you so much for reading, and all the best to you as you build your affiliate marketing empire!
Feel free to leave any questions you may have below and share this article with someone to who it will benefit.
Be extraordinary,
Jason Foster
Founder – Smart Human Blogger
Contact me: here.